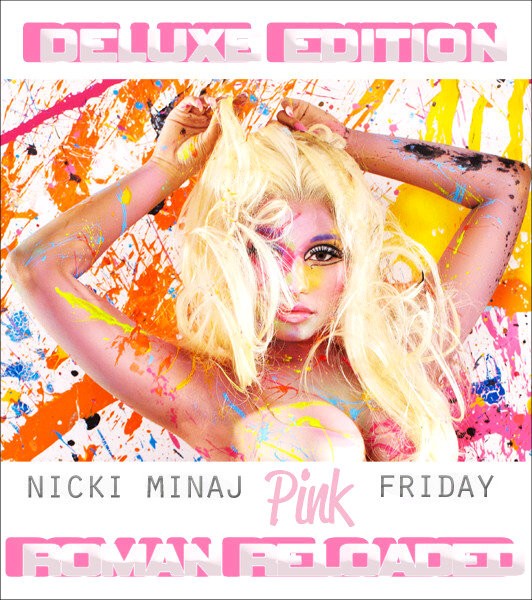 The moment we've all been waiting for...
All the Barbz around the world are please to know! Nicki Minaj finally drops the long awaited tracklist of her sophomore album
Pink Friday: Roman Reloaded
, dropping 17 more days!
With cameos from big hip-hop names like 2 Chainz, Cam'ron, Nas and even Beenie Man, the album will be a hiop-hop pure album! Her mentor, Lil' Wayne appears 2 times of the album, with "Roman Reloaded" and "Sex In the Longue". Her labelmate, Drake appears alongside Nas and Young Jeezy on "Champion". Whereas her mysterious guest appears to be Cam'ron, who appeas besides Rick Ross on "I Am Your Leader". Other tracks includes the Dr. Luke-produced "Masquerade" (which was rumored to feature BritBrit) and the controversial "Stupid Hoe" as well as her Grammy exorcist "Roman Holiday"!
Check it out!!!!!!!
1. Roman Holiday
2. Come On A Cone
3. I Am Your Leader Feat. Cam'ron & Rick Ross
4. Beez In The Trap Feat. 2 Chainz
5. HOV Lane
6. Roman Reloaded Feat. Lil Wayne
7. Champion Feat. NAS, Drake & Young Jeezy
8. Right By My Side Feat. Chris Brown
9. Sex In the Lounge Feat. Lil Wayne & Bobby V
10. Starships
11. Pound The Alarm
12. Whip It
13. Automatic
14. Beautiful Sinner
15. Marilyn Monroe
16. Young Forever
17. Fire Burns
18. Gun Shot Feat. Beenie Man
19. Stupid Hoe

Deluxe Edition

20. Turn Me On Feat. David Guetta
21. Va Va Voom
22. Masquerade